Nueva Reunión del proyecto "European Welfare Models and Mental Wellbeing in Final Years of Life"
10/10/2018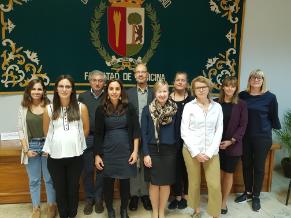 Los días 8 y 9 de octubre expertos europeos en bienestar celebraron la tercera reunión del proyecto European Welfare Models and Mental Wellbeing in Final Years of Life (EMMY) (www.emmyproject.eu) en la Universidad Autónoma de Madrid.
El proyecto EMMY es un estudio interdisciplinar de 3 años financiado por el programa europeo Joint Programming Initiative (JPI) More Years, Better Lives – The Potential and Challenges of Demographic Change y el Ministerio de Ciencia, Innovación y Universidades. Los/as investigadores/as están analizando el impacto de los sistemas de bienestar en la salud mental en las personas de edad más avanzada en Finlandia, Italia, Noruega y España. El proyecto persigue delimitar el concepto de bienestar en la vejez, analizar las relaciones entre los sistemas de bienestar y el bienestar mental, apoyar el intercambio de buenas políticas entre los estados miembros de la Unión Europea mediante la realización de estudios de caso de políticas y sistemas de bienestar existentes y desarrollar una nueva herramienta para evaluar el impacto en el bienestar mental de las políticas de bienestar en las personas de edad avanzada.
Al encuentro acudieron tres investigadoras del Centro Colaborador de la OMS (Elvira Lara, Natalia Martín y Marta Miret) y presentaron resultados preliminares derivados de una revisión sistemática de instrumentos para evaluar el bienestar subjetivo en la población de edad avanzada.