Graduation Ceremony 2012-2013
21/11/2013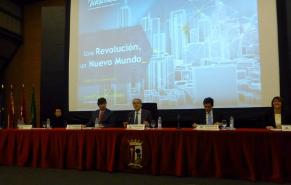 The last Thursday, 21th November, the Graduation Ceremony for those students who completed their studies in the academic year 2012-13 took place.
The farewell speech was performance by D. José María Álvarez-Pallete López, Chief Operating Officer of Telefónica S.A. In the ceremony honorary mentions and Javier Martínez Professor awards were given to the best academic records of the promotions: David Alfaya (Double Major in Computer Engineering and Mathematics), Daniel Brande (Degree in Telecommunication and Service Engineering) and Juan Ignacio Cornet (Degree in Computer Science Engineering.)
Congratulations to everyone!