InnovaChallenge MX contest for developers
05/11/2014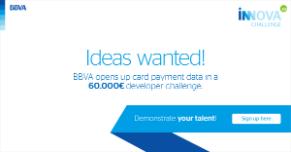 InnovaChallenge MX is a contest for developers, students and people passionate about big data. The objective of the contest is to convert large amounts of data (BIG DATA) into value data accesible and easy to understand for everyone. There are two categories: first one to develop projects or applications that could help enterprises and public institutions to be more efficient, and the second one for projects or applications that could improve the lives of the citizens. There are 60,000€ in prize money for the winners.

How does it work?

1. Sign into the contest through the following website: InnovaChallenge
2. Develop your project or application with the API data that BBVA puts at your disposal.
3. Upload your project before 1st December, 2014.
4. The winners will be announced the 15th January, 2015.