Computing at the Department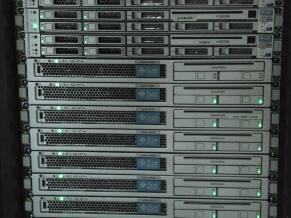 The members of this committee are: Jose del Peso, Jose Fernandez Larrea.
Computer Science Committee has been created from the necessity for support of computational calculations in the Department.

Complex numerical calcultations are carried out at the Department of Theoretical Physics in different areas which comprise Experimental Particle Physics, Theoretical Particle Physics, Computational Astrophysics, Nuclear Physics and Computational Neuroscience. Many of these groups rely on computer science support as they are unable to cover it with the financing of research projects.
At the same time, there are general services such as a web for internal affairs (intranet), printing, databases, operating system configurations, all requiring maintenance.
Additionally, the workstations of more than fifty Department users need maintenance and support as the majority fall under the Linux operating system.