El Curso «Neurobiologia del Desarrollo» del Máster en Neurociencia recibe 4 alumnos extranjeros becados por la Federación Europea de Sociedades de Neurociencia (FENS) y la International Brain Research organization (IBRO).
08/02/2020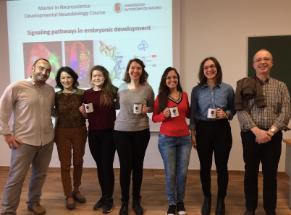 La asignatura «Neurobiología del Desarrollo» del Máster en Neurociencia-UAM ha sido seleccionada este año de entre todos los cursos ofertados en los Programas de Posgrado de Europa con 4 becas del Programa de Intercambio de Estudiantes Internacionales que financian la Federation of European Neuroscience Societies (FENS) y la International Brain Research Organization (IBRO).
Este programa busca facilitar que estudiantes de posgrado en Neurociencia de todo el mundo puedan participar en cursos de excepcional calidad y relevancia organizados por las escuelas miembros de NENS (Network of European Neuroscience Schools). NENS agrupa Programas de Posgrado en Neurociencia de 30 países.
El Máster de Neurociencia-UAM es miembro de NENS desde su inicio. Las alumnas becadas son Ema Bokulic (Croatian Institute for Brain Research, School of Medicine, Croacia), Elisa Guma (McGill University, Canada), Tabitha Rücker (University of Hamburg, Alemania) y Beatriz Thomasi (Universidade Federal Fluminense, Brasil).
La asignatura del máster, dirigida por los Dres. José María Frade, Aixa Morales y Sergio Casas, del Instituto Cajal, se desarrollará entre los días 3 y 14 de febrero 2020.