Study Abroad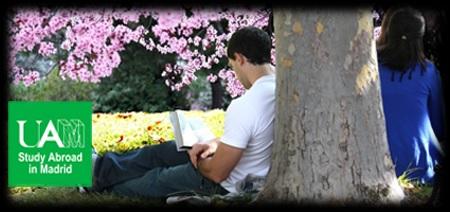 What is SAM?
Study Abroad at UAM (SAM) is a programme designed for international students (non-native Spanish speakers) who wish to improve their knowledge of Spanish Language and Culture or perfect their Spanish language skills through a variety of Spanish-taught or English-taught courses. The programme offers short courses (2-8 weeks) and semester-long or year-long courses in a flexible and multidimensional way and in a variety of disciplines: language and culture, economy, politics, history, society... Courses are taught by UAM staff and may be pre-established or tailor-made. Students receive diplomas with official European credits (ECTS) and transcripts.
SAM is committed to the promotion of Spanish language and culture and offers training for Spanish language teachers, whether they are native or non-native.
SAM students become part of the student community at UAM and benefit from the use of all facilities on campus, which is located in a beautiful environment and conveniently connected with Madrid city centre by commuter train. At the Study Abroad Office, we provide international students with superb personal attention, from the time they inquire about the programs until they complete their studies. We offer on-line level tests to assess each student's language ability, and advise students when choosing programs. We also offer guidance on how to become accepted to the UAM for undergraduate and graduate studies. Our staff assists with housing placement, immigration and visa support, banking, health insurance and general student life concerns.